Why do I only like Toshiba ZV Series over other LED, 3D LCD Tv's?

Simple,

Because of this feature that does not exist on other TV's.. just for Toshiba



Toshiba's unique and critically-acclaimed
Resolution+ upscaling technology takes everyday standard definition content and instantly improves edge detail and texture, enhancing it to virtually high definition picture quality
. Even for the untrained eye, the difference between standard and high definition picture quality is plain to see. Resolution+ drastically improves standard definition picture quality, bringing it close to the level of clarity which only high definition content can achieve. With Resolution+, your Toshiba LCD Television will produce near high definition picture quality on all standard definition TV, DVD and downloaded content you watch while still delivering the most pure and stunning picture quality possible from all high definition sources. Watch as your favourite movies, programmes and games become clearer, richer and sharper than ever before with Toshiba, and Resolution+.
read more about it
HERE
Basically. When for example you watch Astro's Standard Definition channels which is broadcasted in 4:3 aspect ratio, it will be stretched to fit the whole TV Screen and the image will be highly pixelated.
However, you can also have Pillarbox on your 16:9 Screen.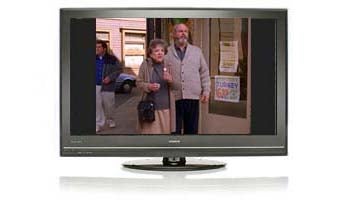 this option retains the original 4:3 format on the 16:9 screen.... But.. what's the benefit of a big TV if you dont fully maximise its potential?
So this Toshiba's Resolution+ technology will take the quality of the standard definition and process to make the image appear as a 1080p image. which will look
Near HD
quality...
other things I like bout this TV is because it can play 24P Real Movie and it have ClearScan 200 which uses its backlight scanning technology.. so faster framerate.. good for playing games.. oh.. and AutoView to..
Price - Rm3.5k.. Its worth it...